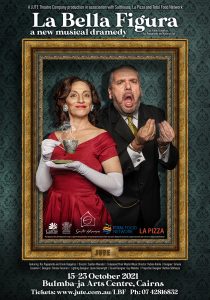 La Bella Figura by Frank Dangelico, Roz Pappalardo and Kathryn Ash
A JUTE Theatre Company production in association with Salthouse, La Pizza and Total Food Network
15 October – 23 October 2021
ABOUT LA BELLA FIGURA
La Bella Figura (meaning, the beautiful image) is a new musical dramedy by second-generation, Italian-Aussies Frank Dangelico and Roz Pappalardo, and local playwright Kathryn Ash. Get ready to jump into the world of  'la bella figura' weaving its often-hilarious magic into the lives and careers of the children of Italian migrants.
Directed by JUTE's Artistic Director, Suellen Maunder, herself a fourth generation Italian, with set design by Simona Cosentini and Simone Tesorieri, our resident Italian-Australian first-generation migrants, the play unpacks the complexities of being an Italian-Australian; steeped in the fading family legends of immigration, driven by family expectation to do well, and feeling challenged between the notion they have 'made it' into mainstream Aussie culture and the need to keep that which is precious and meaningful about their heritage.
According to Roz and Frank, 'la bella figura' makes its presence known in all manner of ways, but is essentially about pride in family and pride in heritage which sometimes means 'keeping up appearances' and being conscious of 'how things look'.
La Bella Figura is an authentic theatre experience, filled with warmth, comedy and deeply moving moments. It will have you going from toe-tapping original songs by local composer Rubina Kimiia, to fighting back tears over the poignant storytelling.
Featuring: Roz Pappalardo and Frank Dangelico
Director: Suellen Maunder
Composer/Choir Master/Music Director: Rubina Kimiia
Costume and Set Designer: Simona Cosentini
Set Designer: Simone Tesorieri
Lighting Designer: Jason Glenwright
Sound Designer: Guy Webster
Projection Designer: Nathan Sibthorpe